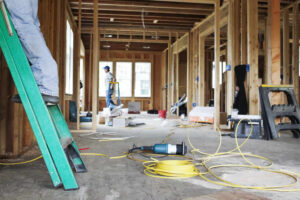 Hiring the right general contractor can be an overwhelming task filled with uncertainty. And when you aren't accustomed to the terminology contractors use, you may begin to feel a bit intimidated. The bid is likely the first place where you'll see typical contractor language and it might leave you with a few questions. Knowing these key contractor terms will help you during your renovation.
Estimate
Most contractors will offer to come out and give you a no-cost, no-obligation estimate for the materials and labor needed to do the job. As the homeowner, you will simply need to walk the contractor through what you would like to have done. From there, the contractor will explain the process and outcome then give allowances that will give you an overall estimated price. It is important to note that estimates are just that– an estimate; this means that the price is not firm and is subject to change depending on materials, time spent, and any hiccups in the process that could be discovered.
Bid
Unlike an estimate, a bid is a firm price. Your contractor will be able to give you a set price for the job after they have thoroughly examined the scope and details of your project. Detailed bids can vary vastly between contractors if they are not all given the same information on the project. Smaller companies may be able to offer lower bids as they generally have fewer overhead expenses whereas large firms may be a slightly bigger investment, however they are typically able to get the job done faster given that they offer more services and have more hands-on-deck.
Rough Order Of Magnitude (ROM)
A Rough Order of Magnitude can be used to narrow down and choose the best contractor for your project, however it does not provide you with an exact completion cost. Typically, this will give allowances based on the square footage of the space and unit costs, and extrapolation from other projects that were comparable in size and magnitude. However, at this point, you have not yet finalized materials so that cannot be added without some uncertainties. Many contractors will budget a certain price for materials and let you know what those budgets are. If you find something you like above that estimated cost, you will be responsible for coming up with the difference. A ROM is great way to narrow down your options in choosing the right contractor, however it does not provide you with a solidified cost.
Cost Plus Or Time & Materials Contract
A cost plus or time and materials contract is a realistic estimate used as the basis for a construction contract. The "plus" in the estimate is the contractor's markup for any overhead costs that will be applied to some, or all of the overall expenses needed to complete the job.
Bids On Bids
Many people feel that they should reach out to several contractors in their area and get multiple bids or estimates for their upcoming projects. While this is a good idea, it is critical that the contractors are providing the same scope of work, quality workmanship, and a finished project that will meet or exceed any expectations you had. You will also want to find out if they guarantee their work. If something were to happen after the job is done, is there a warranty that protects you for one to two years? Choosing a reliable, licensed contractor that is backed with positive testimonials and known for the quality of work they provide will make the process go more smoothly while also making it more enjoyable.
Contact Us (859-538-6198) For a Free Consultation!
View Some of Our Featured Work
—
About CSP
Complete Structural Partners (CSP) provides commercial and residential contracting, renovation, and remodeling services to the Greater Cincinnati/Northern Kentucky area. We specialize in retail, office, healthcare, warehouse, and manufacturing construction projects. CSP provides quality craftsmanship that is completed on time and under budget. Our Interior Design Division provides decorating, staging, and space planning services as well as construction services for small remodeling projects.
> Lean More