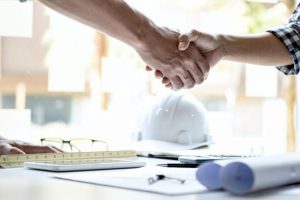 No matter how big or small your project is, hiring the right contractor will make a difference in how successful it turns out. Whether you are building a new structure or remodeling your existing space, there are a few things you need to check before committing to one contractor. Review their credentials, reach out to references, look over their portfolios and take the time to interview multiple contractors. This is the best way to ensure the one you choose is the right one for the job. The process requires you to be very hands on. Below we will discuss three things that you should do to find the right general contractor for your project…
#1 Knowing Where To Look
Referrals From People You Know
Reach out to other local business owners that have recently completed commercial remodeling and improvement projects. Who did they use? Were they satisfied with the job that contractor did? Would they use them for future projects? How well did the contractor communicate with them throughout the process? Was the budget maintained? Were the right permits pulled? How was the overall quality of their work? Talking to people you know and trust is the best way to find a dependable contractor. Their referrals are sure to provide you with better results than any search engine.
Trade Associations
You can use trade associations to review directories that list their members and their specialties, as well as providing you with contact information and more. Connect with local trade associations in your community to get a good list of referrals. The majority of trade associations have their directories posted on their home pages. Check out their website before calling to see if it's listed there.
Search The Internet
Reputable contractors should have a website that you can find on a quick internet search. When looking at their pages, try to find information about their credentials, client testimonials, and the list of their services to be sure that your type of business is one they would work for.
Other Places To Look
If you are struggling to find the right contractor for your project, reach out to others in the industry for assistance. Local suppliers in your area might be able to tell you which contractors will work with your business. Even your local building department might be able to share information that will help you finalize your decision.
#2: Things to Look For
How does the contractor you're considering stand out above the rest?
Licensure: Kentucky laws require commercial contractors to be licensed. You can search online for their license.
Trade Associations: Contractors that are affiliated with trade associations are usually leaders in their industry and well-known in their region.
Awards: Local business associations and newspapers frequently recognize distinguished businesses (and contractors) with awards for achievements.
You should also ask to look at their portfolio. All contractors have their own style and specialty areas. Some might build office buildings while others focus on restaurants. Looking through their portfolio will allow you to determine whether the commercial contractor you might hire works on the kind of structure you are planning to build or renovate.
Their portfolios will provide you with a chance to see their work and determine if their style matches yours. If their portfolio is not enough to make your decision, contact them. Even if the contractor isn't right for your project, they might be able to connect you with another reputable contractor that is. Connecting with one contractor can lead you to the one you need.
#3: Making Your Decision
After you finish making your list of potential contractors for your job, the next part is narrowing it down to one. Adequately comparing contractors takes time and effort… and quite a bit of research.
Interview Each Candidate
Once you have compiled your list, ask them to meet at your job site. If you already have plans from an architect, you should bring those with you. We also suggest bringing a list of any questions you might have for them. It is easy to forget important questions on the spot so this list will help you make sure you ask all the questions you want answered.
Questions you might consider asking: 
What permits do you need to pull to do the project?
How long do you expect it will take to complete the job?
Do you foresee any issues occurring during the project? If so, how would you work to come up with a resolution to keep the job moving forward?
How many years have you been building or remodeling? How many of those projects were similar to this one?
Who will we talk to when communicating with your firm?
Ask each candidate the same questions so that you can better compare them side by side. You should receive an itemized bid from each contractor after meeting with them. Once you receive them, compare them individually to your budget. Never hire a contractor that you aren't able to afford but know that the lowest bid is not always the better bid even though it can seem the most appealing. Your research will help you decide on which contractor will produce the highest quality work at the right price.
Contact Provided References
As you did with your contractors, it is important to ask their references the same questions so that you can easily compare them to one another.
Some questions to ask: 
How long ago did you work with this contractor?
What project did the contractor complete?
How long did it take for them to get the job done?
Was the contractor able to stick to your budget?
Would you use this contractor for future projects?
Would you refer the contractor to your closest friends?
A Reputable Reputation
It can be hard to gauge someone's reputation. By calling their references and looking through their website, you can figure out how the community thinks of them as a professional. You can also reach out to trade associations and your local building department to get a better idea of their reputation.
Experience Makes The Difference
Our reputation in the community and the experience we have to offer you is something we are proud of. If you are planning to start a commercial construction project soon, we would love to hear from you.
As an experienced commercial contractor, we are ready to answer any questions you might have about your project, provide you with a bid if needed, or even offer a referral to a colleague in the field if we aren't the professional for your project.
Contact Us (859-538-6198) For a Free Consultation!
—
About CSP
Complete Structural Partners (CSP) provides commercial and residential contracting, renovation, and remodeling services to the Greater Cincinnati / Northern Kentucky area. We specialize in retail, office, healthcare, warehouse, and manufacturing construction projects. CSP provides quality craftsmanship that is completed on time and under budget. Our Interior Design Division provides decorating, staging, and space planning services as well as construction services for small remodeling projects.