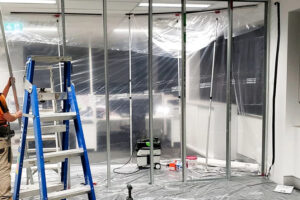 There are safety features to consider when you are renovating a commercial building which makes remodeling a great time to upgrade these safety features. You will need to think about the needs of the people who work in the building as well as the clients you have come in. Here are some of the more frequent enhancements businesses make when they are looking to improve the safety of their building.
Non-Slip Flooring
Stone and epoxy floors can be dangerous since they get slippery when wet. Rugs and adhesive non-slip strips help to make the floors less slippery for the people who are walking in your building.
GFCI (Ground Fault Circuit Interrupter) Outlets And AFCI (Arc Fault Circuit Interrupter) Outlets
GFCI outlets detect the flow of electricity that goes in and out of the electrical outlet. When the flow of electricity is not balanced, the GFCI outlets shut down completely. This helps stop electrocution and is especially useful in spaces that have a lot of moisture (like bathrooms). AFCI receptacles are made to find electrical arcs along a circuit. If an arc is noticed the outlet shuts down, preventing a fire from starting. These receptacles are most useful in buildings that have old wiring since they are likely to have more arc faults.
Both GFCI and AFCI receptacles are more common in newer construction, so it would be good to add them to your building if it is older. Installing these receptacles in your building can help prevent accidents and electrical fires.
Update Your Lighting Options
Having enough indoor and outdoor lighting assists workers and clients in seeing where they are walking so, they do not trip over things. You can walk around your building and look for areas that are not well lit and add light fixtures to keep your workers safe.
Railings And Guard Rails
Railings and guard rails help prevent slips and falls on your property. If your property has guard rails and railings but has not been inspected in a while, it is time to have this done. You may find that the railings and guard rails that are there need to be fixed and upgraded.
CSP Can Help With Commercial Interior Design and the Build
At CSP, we take pride in helping business owners redesign their workplace by creating an interior that is stunning, functional, safe, and will last for years to come. We will work with you and your team of professionals to create a commercial space that is flexible and attractive. Thinking about redesigning soon? We would love to help you ensure that your space looks great and meets the needs of your employees and expectations of your customers.
> View Some Of Our Work 
Contact Us (859-538-6198) For a Free Consultation!
—
About CSP
Complete Structural Partners (CSP) provides commercial and residental contracting, renovation, and remodeling services to the Greater Cincinnati / Northern Kentucky area. We specialize in retail, office, healthcare, warehouse, and manufacturing construction projects. CSP provides quality craftsmanship that is completed on time and under budget. Our Interior Design Division provides decorating, staging, and space planning services as well as construction services for small remodeling projects.
> Learn More