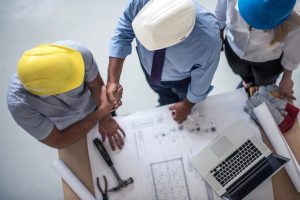 As a business owner, making the decision to build a new facility or remodel your existing space is big but deciding on which commercial contractor to do the job can be a challenge. Let's face it, not all contractors will have the ability or experience necessary for completing your project – and that's okay, but also the reason why it's important to do your research and explore your options before you hire one. Office buildings and retail spaces do not have the same number of requirements as schools, hospitals, sport facilities, and other more complex and heavily regulated businesses. The scope of your project makes a difference in which contractor you secure for the job. But regardless of how big or small the job may be, here are a few tips to make choosing the best commercial contractor a little easier.
#1: Ask to See their Portfolio and References
One of the most important steps during your research is reviewing the contractor's portfolio. This gives you a clear picture of their capabilities. If possible, take the time to visit the facilities so you can see their work for yourself. This will allow you to see how much attention they pay to every little detail. Just because it is a commercial space does not mean that it has to lack originality or craftsmanship. For your own space, you are expecting a finished project that reflects what your business stands for, your culture and community, while also looking professional. Their portfolio is a clear reflection of who they are and the pride they take in their own work. By reading through case studies, you will be able to assess any challenges that had to be worked through during previous builds. Ask the contractor for references and then take the time to contact the project owners. Key questions to ask include how working with the contractor's team was, were their proposals detail-oriented, did they successfully carry out the plan, were they able to stick to the allotted budget and schedule, how did they address any roadblocks, and did you have any major concerns or problems. These will help you set your expectations and determine which contractor is the best fit for your job. Sure, pictures say a lot about what they are capable of but the relationships they have established with previous clients and how they have carried out projects in the past will be a true representation of who they are as a professional and whether or not they have the ability to meet your expectations.
#2: Consider Everything They Have to Offer
Commercial contractors typically offer more than just constructing buildings. They are capable of completing several steps in the building process. As you request proposals from contractors in your area, take into consideration other services they can do to help check things off your list. This is a great way to save you time and money in the process. One great example of this, contractors that provide pre-referendum services that give you an estimated cost on the completed project and inform voters on your new government building or school. Be sure to get more details about these services– is this just a consultation or are they taking the time to conduct feasibility studies, actively participate in community forums, provide useful communication materials, and help with media? You might consider working with a contractor that offers interior design services so you can be sure that the finishes, furnishings, and accessories meet the needs of your business while complementing the architecture and design of the space. Don't choose your contractor based only on the cost; there are many other factors that you should take into consideration to completely understand everything each of your options has to offer.
#3: Review Their Safety Record
Construction work is a high-risk industry for worker and occupant safety. How much attention your contractor pays to safety is not only a good reflection of how devoted they are to their teams, but also their ability to finish your project on time, on budget, and most importantly, safely. There is nothing that will halt your project like an on-site injury — as this could result in fines, lost wages, potential litigation, and a delay in your anticipated completion date. Choosing a company that has an excellent safety record can keep you from losing money while also protecting your reputation as a good company.
#4: Time & Budget Management
Any reputable company will know how to keep their commercial projects on time for completion while sticking to the budget. They are able to do so by creating reliable processes when working with experts in the industry. Building projects need to run smoothly while focusing on every detail; missing one could come with costly consequences. In today's world, contractors can leverage technology to help them manage all the moving parts associated with a project. This includes contracts, costs, timelines, subcontractors, permits, deliveries, materials, etc. Discuss their record for completing projects on-time and the processes they use to deal with scope changes and unexpected roadblocks that may occur during the process.
#5: Get Familiar with Your Project Team
After you finalize your decision, you will be working side-by-side with the construction team until the time the project is finished. Your unique planning process, services, needs, and scope of the project will impact how long it takes to complete the project– it can take several months or even years, which is typically the case for those projects that require referendums. It is important that your facility turns out great but having a great relationship with your team will make all the difference between having a good experience or a miserable one. Your team should be included in the proposal and budgeting process so that you get the opportunity to know them and how experienced they are. This also allows you to ensure that your personalities work well together and that you are comfortable sharing your ideas and feedback with them. Find out how accessible they will be during the process and how well they will communicate with you about everything along the way.
A commercial contractor can meet all your requirements when it comes to their processes, cost, design, and other elements, but having a trusting and transparent relationship is probably the most important thing to consider. We welcome you with open arms. Get to know our team at CSP to see if we are a good choice for your commercial building project. Reach out today to set up a meeting and look through our portfolio to see just what we are capable of accomplishing.
Contact Us (859-538-6198) For a Free Consultation!
—
About CSP
Complete Structural Partners (CSP) provides commercial and residential contracting, renovation, and remodeling services to the Greater Cincinnati / Northern Kentucky area. We specialize in retail, office, healthcare, warehouse, and manufacturing construction projects. CSP provides quality craftsmanship that is completed on time and under budget. Our Interior Design Division provides decorating, staging, and space planning services as well as construction services for small remodeling projects.