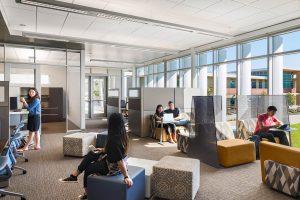 Day in and day out, business owners shift their focus on making sure that their employees have all the tools needed to get their job done in the most efficient manner. Materials and supplies are readily available and accessible. While this makes getting the job done easier, when was the last time you assessed how the layout and design of your office space impacts your employees' performance? Studies have shown that 9 out of 10 employees feel that the layout and design of their office space has a direct impact on their overall productivity. Over a third of those admit that they are embarrassed when they have to bring clients into their workplace. Below we will discuss a few ways that renovating your commercial office can improve your employee output.
Open Workspaces Foster Employee Communication and Collaboration
When remodeling, you will have the opportunity to change the layout of your space so that it encourages your employees to communicate and collaborate. An open floor plan is the best way to accomplish that. Open offices give you more options when it comes to creating an efficient layout and design. You are able to create areas with grouped desks separate from individual workspaces while still allowing employees to truly work together in the space. By grouping employees, it makes it easier for them to communicate and discuss ideas to better the business. Any additional concerns with collaboration can be handled by implementing how many and what kind of conference rooms you add as well as where you place equipment that will be shared among all employees such as copy and fax machines. An open layout makes it easier to address these things. Your main goal when choosing the right layout for your commercial office space is to provide plenty of space for your employees to work while also including designated meeting areas, minimize the amount of time your employees have to move about the office in order to discuss ideas, and make it easier for them to communicate effectively.
Create a Place Employees are Proud To Show Off
As you choose interior design elements, consider which ones will create a space that your employees can take pride in. No more being too ashamed to bring clients through the doors. By using timeless elements, you can make the office look nice for years to come. Add a pop of color that makes the room feel brighter and more energetic and this energy is sure to rub off on your workers. Simple things make a big difference when it comes to boosting employee efficiency.
Working In An Office Built With Green Building Practices In Mind Will Increase Employee Morale
Today's workers are focused on creating a greener world so when their employer implements environmentally friendly practices, you can bet they are proud to share that.
Here are a few ways your business can go green during your remodel…
Policies for the Planet – When hiring a construction company, enforce a green construction policy to ensure your employees and clients know that you are devoted to creating a better environment. This also will show that you are able and willing to adopt new techniques for the good.
Energy Efficiency Everything – By reducing your energy consumption, you will not only decrease your monthly operating expenses but also make a positive difference.
A Good Morale – Applying green building practices in your business will help improve your employees' morale and productivity. Not only will your employees be proud to work for you, but they will also have a healthier, more comfortable work environment to flourish. Having a team of healthy employees that feel good at work is any employer's dream.
Understanding that commercial constructions go beyond just creating a building for employees to do the job is important. If you want your team to be more efficient, you should be willing to invest in an office that creates a positive work environment by including a more modern layout and design.
Need help coming up with the right design for your business? Consult with an experienced commercial construction company. Our team at CSP would love to discuss how we can help you make your commercial office a place where employees are prideful and productive.
Contact Us (859-538-6198) For a Free Consultation!
About CSP
Complete Structural Partners (CSP) provides commercial and residential contracting, renovation, and remodeling services to the Greater Cincinnati / Northern Kentucky area. We specialize in retail, office, healthcare, warehouse, and manufacturing construction projects. CSP provides quality craftsmanship that is completed on time and under budget. Our Interior Design Division provides decorating, staging, and space planning services as well as construction services for small remodeling projects.